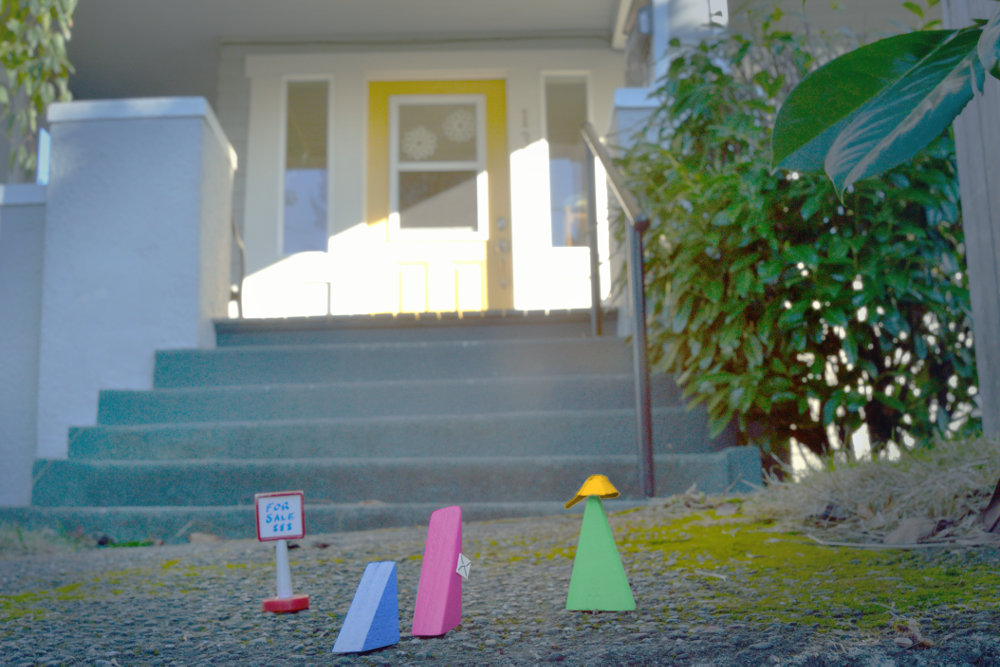 I have bought exactly one home in my life, and it wasn't until I was 39 years old (which was not so long ago, thank you!). And while the housing market here in Bellingham, WA is tight by its own standards, it doesn't hold a candle to the likes of the Seattle or Bay Area.
One thing that got me through the stressful experience was our Realtor®, Matt McBeath. (Did you know that "Realtor" is a registered trademark? I know I didn't.) I was so impressed with his process, more than anything else, that I wanted him to share his thoughts on how to buy a home in a red-hot market.
[Note: The rest of this post is written by Matt McBeath. Matt has been a residential and investment property Real Estate Agent for more than 14 years in Bellingham and neighboring areas in Whatcom and Skagit Counties, WA.  He guides buyers and sellers through the complexities of property transfer and contractual negotiations.  He holds numerous designations and has won multiple awards for his success in helping clients into and out of the homes they want.  Matt served a 3-year term as a Director for the Whatcom County Association of Realtors®.   Two years ago, he earned the title of Managing Broker and now lends his guidance to other agents in that capacity. You can reach Matt at or mattmcbeath.com/.]
The real estate market has been heating up over the last few years.  Buyers in large cities like Seattle have been feeling this heat in a big way this past year.  Seattle is a wonderful place to live and work.  There are ample jobs in the engineering and technology fields. Buyers from all over the country have discovered a quality of life there that is unsurpassed in many other areas of the US.
The real estate market is reflecting this demand at every turn.  Buyers are finding themselves in bidding wars for homes.  In some cases, buyers are bidding on four, five, or even more homes before finding one that they may secure under contract.   They may have offered full price or perhaps more, but have been beaten by other offers several times.
How does a buyer stand out in the crowd when making an offer?
Tip #1. Get pre-approved at a lender before you even begin looking at homes.  
Talk to your Realtor® about local lenders and who they trust.  A local lender is often looked at favorably by listing agents who will then convey that to their seller.  When a local lender cares about doing a good job and their reputation locally depends upon it, then communication and service is better.  Closing delays may be less frequent.
Tip #2. If a home is priced within the bounds of comparable sales, then offer full price.  
If it is priced competitively, then explore how an 'Escalation' addendum works with your Realtor®.  These addenda allow a buyer to offer a specific amount in the absence of other offers.  They also allow for an organized escalation of your offer price by specific increments up to a maximum top offering price.  The price is only driven by the presence of competing offers.  You are offering $X more than the highest competing bid up to a maximum of $Y purchase price.  Embedded in the addendum is a clause the compels the listing agent to show you the highest competing bid if yours is escalated and chosen.
Tip #3. Include a personal letter in the offer package.
The letter should be written in coordination with your buyer's agent and addressed to the listing agent and the sellers.  This personal touch should describe how the home made you feel walking in and express appreciation for the seller bringing it to market.
You should describe who you are, where you work, for how long, and why you would like to enter the next chapter of your life at this location.  Name your children.  Include a family picture. Perhaps include a small joke about how one of the kids has already picked out their room.
Take note of the type of art or decor in the home and let them know your furniture will fit perfectly.  Compliment their taste.  Make yourself human.  Bond with them.
You'd be surprised how far a well-written letter can get you.  If a seller has lived at a home for 10, 20, or 40 years…there is some part of them that wants to turn it over to people that care.  They want to know that good things will continue to happen after they leave.  A letter may not win the day in the midst of other significantly higher offers…but then again…it might.   You should be working with a buyer's agent that has examples of letters they have written successfully with other buyers.  I have won bidding wars with personal letters.
Tip #4.  Meet your inspector at the home with your Realtor® the same day you look at the home.
In a red hot market, here is an aggressive move that might get you the home.  I give this advice only in red hot hot markets when my buyer must have a particular home.  Are you ready?
Develop a relationship with your favorite home inspector…or perhaps 2 or 3 inspectors.  Ask your Realtor® who they trust.  Meet the inspector at the home the day you are looking at it!  If this is THE home you want, then have the inspection done right away.  That's right…I am advising you to get your inspection done that day, before you have even written a contract on the home.  It may be a risk worth taking.
What do you get by doing this, though?  You might feel confident enough about the home right then and there to write your contract with no inspection contingency.  This is a huge deal to a seller.
An inspection contingency is a negotiated period of time in which a buyer can back out of a contract for any reason.  When you write your contract without one, you are making a bold statement and you are risking your earnest deposit right out of the gate.  Sounds insane, doesn't it?  It would be insane if you hadn't had an inspection.  By taking a bold, unusual step upfront—the day you look at the home—you may put yourself at an advantage that other parties are unwilling to match.  They don't know the condition of the home yet.  You do.
---
Question: What is one way that the crazy housing market is affecting you (for good or ill)? You can leave a comment below.
Do you want help figuring out the buy-versus-rent decision? Do you really want to own a home but are too scared to make the move? Reach out to me at  or schedule a free 30-minute consultation.
Sign up for Flow's Monthly Newsletter to effortlessly stay on top of my blog posts, and also receive my guide How to Start a New Job (and Impress Yourself and Everyone Else) for free!
Disclaimer: This article is provided for general information and illustration purposes only. Nothing contained in the material constitutes tax advice, a recommendation for purchase or sale of any security, or investment advisory services. I encourage you to consult a financial planner and/or an accountant for advice specific to your situation. Reproduction of this material is prohibited without written permission from Meg Bartelt, and all rights are reserved. Read the full Disclaimer.