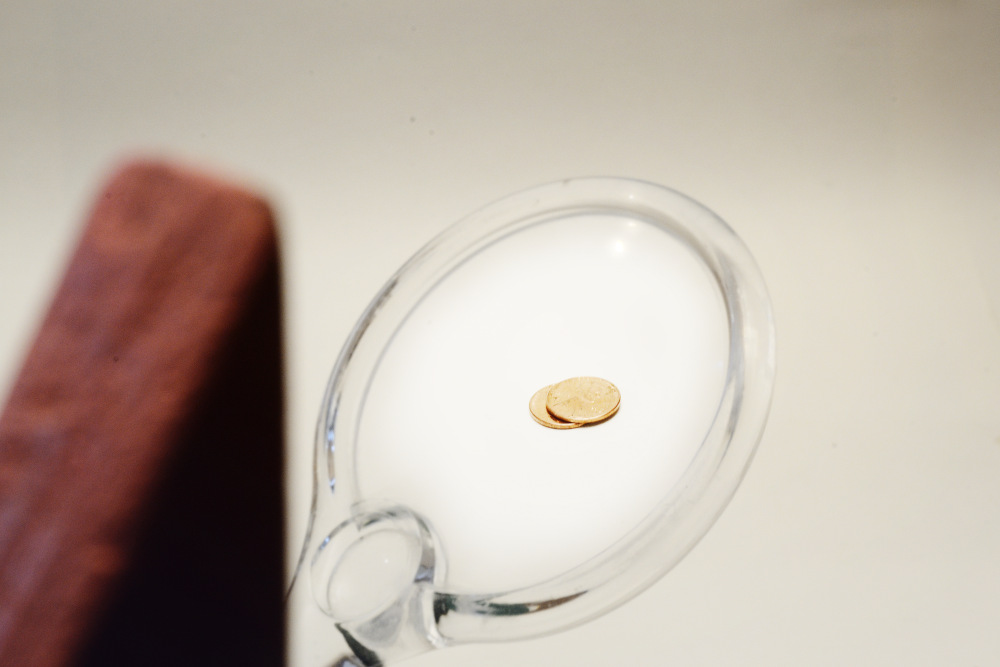 With interest rates now being not-zero, it is very tempting to move our cash all around in order to actually, Finally Lord! get some interest on our cash.
After all, getting a higher interest rate on money that will continue to sit there as cash is "free money." Why wouldn't you do it?
Maybe you should. It has certainly occurred to me (spoiler: I'm not moving my accounts).
But maybe you shouldn't.
Here's a short thought process to go through to evaluate whether you should.
How Much Extra Money Will You Actually Get Out of the Move?
Banks are paying 3%, even 4%, interest nowadays. Unheard of! I mean, as long as you don't look at interest rates prior to the Great Recession and certainly prior to 2000.
People are understandably interested in moving their cash away from their bank's 0.2% interest rates.
Even a few years ago, though, when interest rates were low everywhere, people were still eager to make this change. Why? I suspect it's because we've all been sold on "optimization" (of a very specific sort: optimizing for dollars).
A few years ago, if you ran the math, you'd realize that you could get an extra $30 per year. Not exactly persuasive. And certainly way less persuasive than "our interest rate is 5x what our competitor offers!"
If you're feeling the urge nowadays to take advantage of higher interest rates at some other bank, I recommend you first figure out how many more dollars (not how many more percentage points of interest) a move to a different bank would get you. What would such a move actually be worth?
The calculation goes like this:
How Much Cash We Talkin' 'Bout
x Difference in Interest Rates
– Taxes on the Interest Income
Yes, don't forget about those taxes on that interest income. Interest income doesn't get the lower long term capital gains tax rate. It gets taxed at the same rate your salary does. Those taxes can quickly make a higher interest rate far less attractive.
Here are a couple of examples to help you get a sense of just how much (or how little) extra money this might mean for you: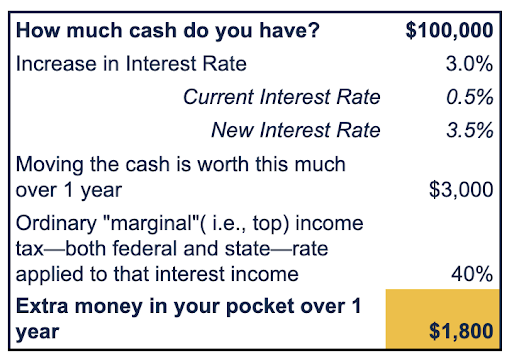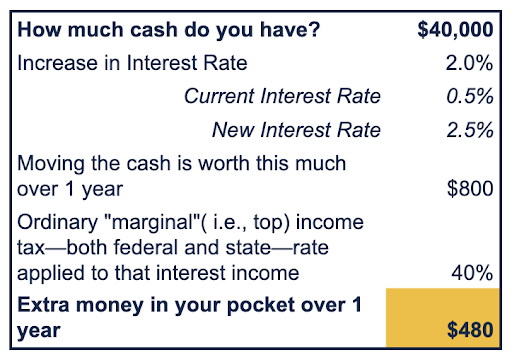 Now think about how much effort and mental energy it requires to open new accounts and move money around. In some cases, maybe it can be quick and easy. In some, it's a giant pain in the patoot.
How much money makes the effort worthwhile?
I hope you are starting to get a sense for whether or not this idea of moving banks still feels like a worthwhile endeavor.
"Highest Interest Rate" Isn't the Only Valid Reason to Choose a Particular Bank.
There are, it turns out, lots of reasons to use a particular bank that have nothing to do with how much interest you earn. You might reasonably choose to stay where you are, earning lower interest rates.
For example, you might want to keep your money in your local community, so you use a community bank or a credit union. Or your current bank might have a local branch and you like being able to walk into the branch.
For me, the biggest and most direct consideration is administrative ease.
If all your accounts—business bank accounts, mortgage, personal loan, checking account, credit card, etc.—are already at a certain bank, then moving some of them somewhere else can create administrative hassle.
Do you have direct deposit set up to a bank account that you'd now be moving? You'll have to re-do that.
Do you have automated transfers set up between bank accounts or between bank account and loan? You'll have to re-do that.
Do you have auto-pay for your credit card or other bills hooked up to a specific bank account? You'll have to re-do that.
Any account aggregation tool you use—Mint or YNAB or, if you work with us, the financial planning tool RightCapital—now you have to add a link to this new institution and stay on top of it.
Also, now you'll get tax documents from one more institution. Surely tax time is stressful enough without having to track one. more. financial institution?
I'm not saying move or don't move. I'm simply inviting you to think a bit beyond "Higher interest rate good!" and figure out what's actually good for you.
---
Do you like the idea of working with a financial planner who can help you evaluate even "mundane" financial questions like this, so you do only what will truly serve you? Reach out and schedule a free consultation or send us an email.
Sign up for Flow's weekly-ish blog email to stay on top of our blog posts and videos.
Disclaimer: This article is provided for educational, general information, and illustration purposes only. Nothing contained in the material constitutes tax advice, a recommendation for purchase or sale of any security, or investment advisory services. We encourage you to consult a financial planner, accountant, and/or legal counsel for advice specific to your situation. Reproduction of this material is prohibited without written permission from Flow Financial Planning, LLC, and all rights are reserved. Read the full Disclaimer.