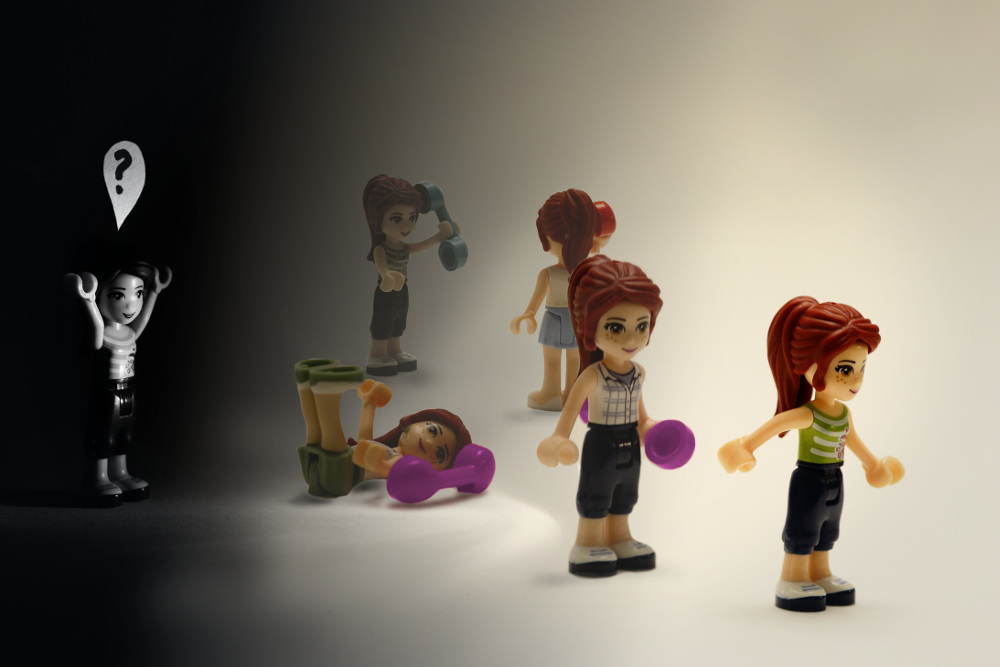 "I'm not all that sure what they do. Or how to find them. Or how they work. Or how much they cost. Or how to choose one."
Sound familiar? It's what many people go through when they want to find a financial planner. And it's what I've recently gone through looking for a business coach for my financial planning firm.  I realized early in the process that "I am standing in the shoes of almost every person who has ever looked for a financial planner. How iiiiiinteresting."
I have since found a business coach whom I'm very excited to start working with. My process for finding her is instructive not only to my peers looking for a business coach themselves, but for everyone looking for a financial planner. Like, say, you. And let me tell you, I now have an even bigger appreciation for the discomfort of searching for a financial planner. <shiver>
The Problem with the Financial Planning "Profession"
I believe my search process can be helpful to you because both "professions"—financial planner and business coach—have the same problem: they are not true professions yet.
If you're looking for a doctor, you know that someone with an "M.D." after their name will have a certain minimum level of competence, they are employed by hospitals or private practices, everyone you know has a doctor they can comment on, the doctor is subject to certain educational and ethical requirements, and you can judge success pretty easily: "I was sick. Then the doctor prescribed me medicine. Now I am better."
But for financial planners (or business coaches), there is:
No minimum training or education necessary to call yourself by that name

No minimum set of competencies we can rely on such a professional to have

A bewildering variety of companies that employ professionals who pitch themselves as financial planners or similar

No easily quantifiable way to judge success

And at least for financial planners, a huge

trust

deficit to overcome
The Simple, but Not Easy, Way to Address This Problem
Because the profession isn't yet well defined by governmental or professional certifying bodies, you're going to need to figure it out for yourself. Sorry. Practitioners in the profession differ so much in personality, process, philosophy, and training that you need to first "triangulate" on what a planner does, in general.
Then if a planner is the right professional for you—and you don't just need, say, an accountant or an insurance agent or just a knowledgeable friend—you need to find the specific one for you.
All this uncertainty can be addressed in one uncomfortable step: Interview several planners. I interviewed five business coaches. Usually I recommend you interview three financial planners, but I must say, interviewing that many coaches was well worth my time because I was so ignorant of what a business coach does.
Step 1.  Get clear about what you want from a relationship with a planner.
Yes, this first step is all about you, before you even start looking for planners. In my search for a coach, I knew that I wanted help achieving my Big Hairy Audacious Goal: growing my business into the premier financial planning firm for women in tech on the west coast. (Exciting, no? I think so.)
What do you want help doing? Investing your 401(k) or an inheritance? Figuring out how to save for a variety of conflicting goals? Deciding what to do with your stock options? Making sure you're consistently making the right financial decisions? Reducing your anxiety over your finances?
Step 2. Identify a bunch of reasonable planners.
Cast a wide net. Ask friends and family. Ask professional networks. Look at "find a planner" tools for financial planning professional organizations (such as the XY Planning Network, which I'm an associate member of, or the National Association of Personal Financial Advisors).
If you know what you're trying to accomplish by working with a professional (Step 1), you can usually get more appropriate recommendations. "I work in a start-up and I'm looking for a planner who can help me figure out all my benefits and help me negotiate my compensation" will get you much better recommendations than "I'm looking for a financial advisor."
I asked my professional network for business-coach recommendations and got about 10. I winnowed it down by taking the recommendations that were most detailed about why and how the coach was awesome. I ended up with a list of five coaches:
3 specialize in financial planners; two of those are former or current advisors themselves 

1 is industry "agnostic"

1 is affiliated with the tech industry (I thought that might be a helpful perspective given that I work with women in tech)
Step 3. Interview the heck out of 'em.
Each of these coaches took me through a different prospective-client process—how much time they spent in the initial consultation, what additional materials they sent to me, questions they asked in the initial consultation—and a different twist on how they would work with me. But there were commonalities among them all that allowed me to figure out well enough what it is a business coach does.
I was lucky enough to interview one coach who right away realized she was not the right kind of coach for me and went on to explain the different kind of coaches out there—life, business, and leadership—and that I should indeed be looking for a business coach (with business consultant leanings), and, furthermore, that I should go with one specific to my industry. This woman spent 30 minutes of her time helping me out, with no expectation of getting my business, and I was so grateful. I hope you will find planners who send out the same kind of good karma.
Before the consultation: When you initially reach out to a planner, tell the planner what problem you're trying to solve, what goal you're trying to achieve, what you're looking to the planner to help you with. That will enable the planner from the get-go to communicate most effectively with you. 
During the consultation: Then when you finally do talk with the planner, ask these questions. Yes, really, be this explicit. Looking for someone to help you accomplish your financial goals is not the time to be coy. And any financial planner worth her salt won't get offended.
Do you help people accomplish the particular goal or solve the particular problem that I have? 

How would you help me accomplish my goal/solve my problem?

What would it look like for us to work together?

How much and how do you charge?

How do you hold me accountable?

How can you serve me better than other financial planners?
In my case, the coaches who specialize in financial advisors could clearly address issues specific to my profession that other coaches simply wouldn't know about.  Especially because it's a highly regulated industry, that awareness is key. But the advisor affiliated with the tech industry would be able to help me understand my prospective clients in that industry a bit better.

What other questions are important to you?



I previously wrote about how to "vet" a financial advisor, and you can find more questions there.
Step 4. Take a few days to reflect on the interaction.
Did they interview me as much as I interviewed them? Do I feel they really listened to me?

How did I 

feel

talking with them? Comfortable? Encouraged? Stressed out? Defensive?

Did they offer any guidance or ideas in the moment or in a follow-up email that could help me see how I could make progress?
This is not only reassuring but also indicative of a planner who is confident that their offering is valuable enough not to be undermined by providing some free guidance.
In my search for a coach, there were two whose professional offerings were both equally appropriate and impressive. Both had been or were advisors themselves, both focus on advisors who work with women, and both provided a lot of value in that initial consultation. But after I ruminated on it gently for a couple of days, I realized that I felt more comfortable with one. And that decided it.
With a financial planner, it's really (really) important to feel comfortable with the professional. You're ideally going to be working with this person for a long time, discussing important, sensitive issues (hello, money!). Even if the planner is extremely competent and has the best marketing and what have you, if you feel … hesitant at the idea of talking with this person, find someone else. I trust that you'll know when you find the right planner.
Are you trying to figure out if you need a financial planner to achieve your goals? Are you a woman in tech? Reach out to me at  or schedule a free 30-minute consultation.
Sign up for Flow's Monthly Newsletter to effortlessly stay on top of my blog posts and extra goodies, and also receive my Guide to Optimizing Your Stock Compensation for free!
Disclaimer: This article is provided for general information and illustration purposes only. Nothing contained in the material constitutes tax advice, a recommendation for purchase or sale of any security, or investment advisory services. I encourage you to consult a financial planner and/or an accountant for advice specific to your situation. Reproduction of this material is prohibited without written permission from Meg Bartelt, and all rights are reserved. Read the full Disclaimer.