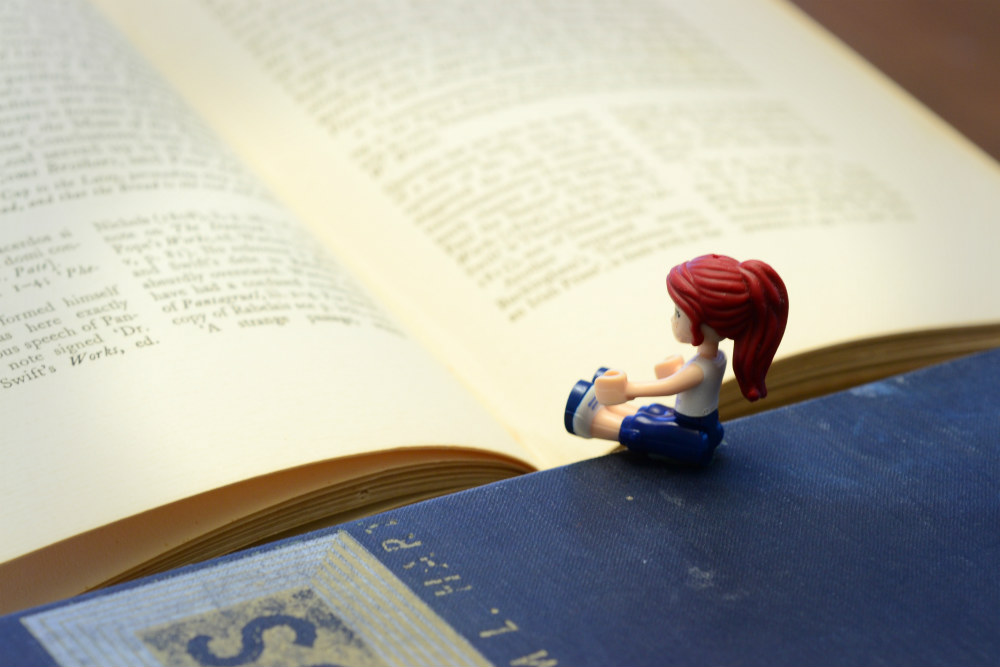 Are you early-to-mid-career with bigger career aspirations? Is it cold and dark (and maybe even rainy) where you live, too, and you're looking for indoors entertainment? Well then, pull up the easy chair, heat up a mug of hot cocoa, and read these two recent books:
Both of these books are funny, engaging, pragmatic, and very grrrl power. Women in Tech talks about stories and issues specific to (surprise!) women in tech.  Feminist Fight Club isn't about any particular industry. If you're a woman in tech, however, you will identify with a lot of what it talks about.
The two books say some of the same things. Instead of it being boring and redundant, I think this repetition tells us that these are the areas you should focus your efforts on. These are the things that will bring you the most progress and power.
Negotiating. For the love of all that is professional and personal advancement, please read up on negotiation and practice it until it feels a bit more normal to you.

Helping other women out

Having a network
Feminist Fight Club
Though written in a sassy style, this book is based on extensive research. Just check out those endnotes.
The FFC is, at its core, a network of women who can commiserate with and support one another when dealing with the difficulties of the workplace. Again, just like negotiating skills, a network is a necessity, not a luxury. Bennett acknowledges that men must be involved.
The book is organized around types of men or challenges we women face in the workplace, and then suggests specific "fight moves" to combat the man or challenge.
Are you dealing with a "

Manterrupter

"? Well, why don't you introduce some "womanterruption, " where you help another woman when she's been interrupted by returning the conversation to what she was saying.

Are you sabotaging yourself by being the "

Office Mom

"? Be sure to have a "Public Display of Additional Work," in which you make sure your extra work is visible.

Are you a "

Credit Defaulter

"? Do you tend to brush it off when people compliment you on your work? Just say "Thank You" instead.

Are you and your co-workers operating under the stereotype that "

female bosses are the worst

"? Give

your

female boss the benefit of doubt and encourage others to do the same. This is part of the overarching rule to Always Help Other Women Out.
Bennett also recommends "gender judo": where you combine  "communal behaviors " (friendliness, kindness, humor) with ambition. Michelle Obama anyone? This is a recurring theme in books about women in the workplace: the negotiation book Ask For It recommends women be "relentlessly pleasant" so they can remain tough on the issues.
Negotiation
One unique piece of negotiation advice I found from Bennett is to provide your negotiating partner with a list of specific accomplishments, with supporting data. If you also follow a recommendation in Women in Tech—to update your resume monthly with all the latest details of your work—this impressive list should be easy to produce.
"What Would Josh Do"
Perhaps the most amusing one in the book, this chapter tells you to channel Josh—an utterly mediocre white male colleague (possibly a pastiche of peers she's had) who is nonetheless professionally successful—when making your daily professional decisions. If you think you're not good enough, not smart enough, not deserving of whatever…just remember that Josh always thinks he's good enough, smart enough, and deserves what he wants.
I see this advice for women in a lot of places: Pretend You're Someone Else. Feel uncomfortable advocating for yourself? Advocate on behalf of someone else. Feel uncomfortable speaking up in a meeting? Pretend you're your white male colleague and participate as he would.
Women in Tech
This book is a series of advice chapters, written by Van Vlack, interspersed with personal stories by a long list of contributors about their varied experiences in tech.
The book "explore[s] why women go into tech and why they stay there in spite of all the barriers that still exist and seem to be growing."
While Van Vlack gives advice, the contributors help you see that the routes to being a woman in tech are many and varied. You should definitely get a sense of "I'm not alone" from these anecdotes..
The Only Company You Will Ever Work For
Though Van Vlack gives advice about individual components of your career in tech, I think her best piece of overarching advice is to "think of your own career as the company that you work for, as opposed to whatever company is currently signing your paychecks."
That perspective could be a helpful guide in making the right career decision at every step. Evaluate each decision—job opportunity, speaking engagement, promotion, training, etc.—against the question, "Will this help my company [i.e., my career] grow and be more valuable?"
Specific Advice
The book contains a ton of specific, actionable advice, so I've picked out my favorite, though not necessarily representative, bits. 
Applying for jobs: "If you see 'ninja' or 'rockstar' in the job description, toss it." and "The world is headed away from long-term, full-time salaried employment, and your chance of interviewing for jobs on a yearly or very regular basis are going up, so it pays to get comfortable with this process."
Negotiating: Some rules:
Do not name a number first. Instead say "that's a great place to start!" when the employer suggests a number.

Never say yes to the first offer.

If they've got you in the room, it'll cost them a lot to lose you.

If a salary has salary bands, ask for other benefits, like stock options, or work schedule flexibility.
Parenthood: Van Vlack has, from my perspective as a mother of young children, a depressing but perhaps accurate attitude towards parenthood. "Children will interrupt your career plans. If you want to have them, go for it, but understand that doing so will incur a penalty on your career timeline…Women are not supported by venture capital and angel investors if they have the barest whiff of mommy about them… Tech is one of the harder careers to succeed at if you're a primary caregiver."  
Interestingly enough, I just spent time with a girlfriend of mine who has two kids under 4 and is probably getting involved in an extremely early stage start-up. From what we can tell, she's not experiencing the Mommy Penalty. She happens to be a smart, MIT graduate, cross-fit devotee who Looks Strong. She has physical presence, doesn't mind talking in the least, and held her own as the only woman in a group of men, most of whom are decades her senior. Obviously, one anecdote does not data make, but it suggests that there are ways to combat the Mommy Penalty (or other stereotypes about women in the workplace).
Personal Brand: Van Vlack distinguishes between the needs of early career (which is usually when you simply need a job to pay rent, pay off student loans, and the like) and Mid-career, when your "personal brand" can really come to the fore, and in fact when it really needs to. Mid-career, "It's no longer about your skill set; it's about your network, your image, your personal brand."
Van Vlack recommends time and again that you update your resume monthly. This allows you to keep track of all the details that you're supposed to use in job applications and in negotiations.
Get a Mentor: Power Quote:
"I personally believe that the biggest reason women leak from the pipeline…is a lack of mentorship."
Networking: Like negotiating, it's a job requirement.  Van Vlack recommends you add 10 hours/week for professional development. Spend ¾ of that time on skills and ¼ on networking.
Start Your Own Company. Van Vlack is a huge proponent of this for women. Why? "People who need flexibility along with achievement need more control over their lives. You do not get total control over your life by taking orders from someone else…More than that, startups are the only real way for a woman to get power in tech."
I see that logic, though I also think that because the tech industry is so awash in money, that even as a career-long employee, you can have tremendous control and power of your own destiny. If you do it right. If you manage risks, save money in the right places for the right reasons, think through your goals, make a plan, and evaluate each financial decision through the lens of "does this serve my plan?"
Question: What book or article have you read recently that has helped you in your career? You can leave a comment below.
Do you want a financial planner who understands that your financial strength and your professional success are entwined? Reach out to me at  or schedule a free 30-minute consultation.
Sign up for Flow's Monthly Newsletter to effortlessly stay on top of my blog posts and extra goodies, and also receive my Guide to Optimizing Your Stock Compensation for free!
Disclaimer: This article is provided for general information and illustration purposes only. Nothing contained in the material constitutes tax advice, a recommendation for purchase or sale of any security, or investment advisory services. I encourage you to consult a financial planner and/or an accountant for advice specific to your situation. Reproduction of this material is prohibited without written permission from Meg Bartelt, and all rights are reserved. Read the full Disclaimer.